De bloemen van de lente
Bloemen zijn het hele jaar door in onze webshop verkrijgbaar. Maar net zoals er groenten en fruitsoorten van het seizoen zijn, zijn er ook bloemen per seizoen. In elk seizoen zijn er andere bloemen die dan bloeien en op hun mooist zijn. In het voorjaar is het aanbod van typische lentebloemen het grootst. Deze bloemen zijn dan ook in die periode voordeliger dan bijvoorbeeld herfstbloemen. Neem eens een kijkje bij de seizoensbloemen op onze assortiment pagina en bekijk welke lentebloemen verkrijgbaar zijn.
De bekendste lentebloemen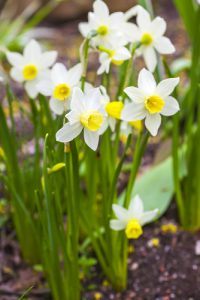 Bloemen die iedereen wel kent zijn de tulp en de narcis. In het voorjaar staan deze vaak in het wild langs de weg of gewoon bij u in de tuin. Narcissen staan erg mooi in een paasboeket. Vooral de witte variant met een gele kelk is daar geschikt voor. Tulpen zijn er in veel verschillende soorten. Deze bloem is er in bijna elke kleur die u kunt verzinnen. Voor iedereen is er dan ook wel eentje te vinden die bij zijn of haar smaak past.
Kleurrijke bloemen in de lente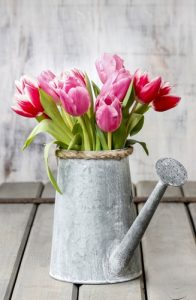 De lente is een tijd waarin de natuur weer tot leven komt en overal haar prachtige kleuren laat zien. De sering en de anemoon zijn voorbeelden van bloemen die in het voorjaar de omgeving kleur geven. Ze zijn er vooral in verschillende paarstinten. Een bos bloemen in deze kleur geeft uw woonkamer een echt voorjaarstintje. Ook de geur van deze bloemen zal u een lentegevoel bezorgen. Zet echter niet te veel seringen bij elkaar, dan kan de geur overheersend worden. Rozen zijn het bekendst in de rode kleur van de liefde. Ze zijn echter ook in andere kleuren verkrijgbaar, zoals wit, geel en roze. Er is dus genoeg variatie mogelijk voor een geurig en kleurig boeket!
Witte bloemen geven grasland een lenteachtig uiterlijk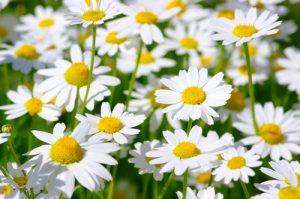 Margrietjes zijn er ook in verschillende kleuren, maar de witte margrieten zijn het bekendst. Ze geven grasland een lenteachtig uiterlijk, maar ze staan ook prima in een boeket of bloemstukje. Een andere witte bloem is de sneeuwbal. Hoewel de naam anders doet vermoeden, zijn sneeuwballen echt lentebloemen. Deze bloemen heten zo, omdat ze op een sneeuwbal lijken. Er zijn overigens ook sneeuwballen die hun naam meer eer aandoen en in de winter bloeien.